By its very nature, metal recycling is a green activity and always has been. It's a sustainable industry at its core because recycling and repurposing extends the lifecycle of metals and other materials. Furthermore, it prevents metal items from ending up in garbage dumps and landfill. Our company uses environmentally friendly methods to secure and ship high-quality recycled metals in the most eco-friendly way possible. Our Quality Control procedures ensure that incoming items and outgoing products are free of hazardous materials and fluids. Any compressed items are properly decompressed before shipment. And, we use radiation detectors to ensure that no radioactive material enters or leaves our facility.
The environment is always top of mind
With the ongoing degradation of our ecosystem, now it's more important than ever to re-use, recycle and repurpose materials. We need to divert e-waste components from garbage dumps and landfill, so Dartmouth Metals has stepped up to play a role in this diversion effort. The environment is always top of mind. For example, when we tackle large-scale demolition and dismantling projects, we think about the environmental impacts from the planning stages right through to the end of each job we perform. On-site or off-site, small project or large, our aim is to protect the air, water, and land in all phases of our operations.
Green History, Green Future
At Dartmouth Metals, we want to be the greenest we can be. We go to great lengths to ensure we meet all the environmental safety requirements of domestic and international steel mills and foundries. Our goal is to reduce environmental impacts in our community and across the globe. That's why we stay on top of the latest trends in scrap metal and e-waste recycling, and we implement the best practices. Dartmouth Metals is proud to be recognized by the Nova Scotia legislature for our ongoing commitment to the preserve and protect the environment.
This machine mechanically separates various types of electrical cables including insulated copper wires. It saves energy and uses far less heat to recover the metal than any other technology.
This state-of-the-art transportable machine efficiently compacts old appliances and other light metals and crushes cars.
Used for processing scrap metal for transport purposes, this equipment is ideal for large structural dismantling and demolition. They're pressed into use on-site at Dartmouth Metals and they're ready to dispatch to big sites on demand.
These excavators are outfitted with a powerful magnet to ensure no steel is left behind on clean-up jobs.
Boom Trucks, Lugger Trucks, Roll-Off Trucks & Pick-Up Trucks (½ Ton and ¾ Ton) The diversity of our fleet means we can pick up any shape or size of material, whether it's light or heavy and in small or large quantities. Trucks are equipped with portable scales for fast and efficient service.
We have a variety of trailers on hand to handle any situation, including oversize pieces, when hauling scrap metal from location to location.
A wide range of container sizes to handle any quantity of scrap metal are available for placement at private or industrial customers' properties.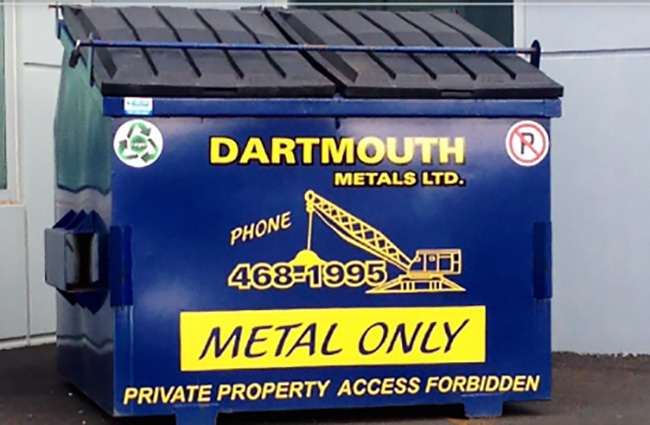 These front-end dump containers come equipped with locks to reduce theft and are popular with businesses like car dealerships and muffler shops.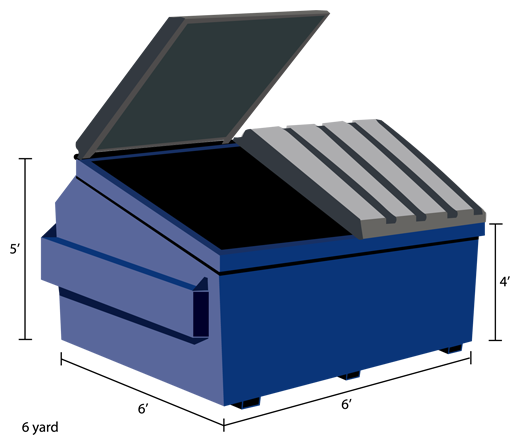 These devices ensure that no radioactive materials enter or leave our facility.
Our modern office systems enable efficient operations and logistics. We use software to increase the speed of transactions, ensure accuracy, provide tracking information, and produce annual reports for customers.
Strategic Location… Unmatched Exporting Capability
Dartmouth Metals is situated on a main rail line. With our own rail siding, we can order rail cars to ship in and out as needed by our customers. We have the added advantage of being in close proximity to port facilities in Halifax. A large natural waterway, Halifax Harbour serves the Atlantic shipping lanes as the first inbound and last outbound port along the east coast of North America. With the transcontinental rail connections that exist in HRM, we can ship materials internationally with great efficiency.
Bigger is Better!
Our property and layout stand us apart. We are located on 10 acres of land near port facilities. This large property has enabled us to expand, acquire new equipment and create a layout that is highly functional and efficient for vehicle access and processing materials.